×
Maple Creek News
Battle of Little Big Puck
Full traditional costume adds a flare to the annual hockey contest in Maple Creek.
×
Battle of the Little Big Puck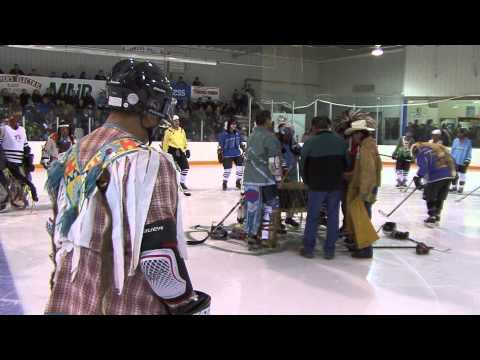 The cowboys and Indians are facing off, with one lone Mountie between them. He drops the puck and the battle is on: The Battle of the Little Big Puck.
For the past 30 years, in the depths of a February freeze, the cowboys of Maple Creek and the men of Nekaneet First Nation have been lacing up their skates and doing battle for charity in this grown-up game of Cowboys and Indians.
"You might be hard pressed to find a community anywhere in Canada where you could call it a game of Cowboys and Indians and not offend anybody," says Joe Braniff, a rancher who has laced up for close to 25 matches. "Where else could you put two cultures against each other in a hockey game, with bragging rights and everything else at stake, and not turn it into a war? Both sides are very proud of that."
In fact, in thirty years of this charity game, there has never been a fight. Penalties are few and far between. Rather than penalty minutes the punishment is a free shot on goal. 
"The referees have made calls like 'you're looking too good' or 'you're skating too fast.'" It's all in fun. We want people in the stands to see that we all get along and it's been a joy to do that over the years," says Dale Mosquito, an old-timer on the Nekaneet team.
---
Read all the stories that appeared in the Summer 2013 issue when you Subscribe now to our print and/or digital version.
Also, we LOVE your feeback! Leave your comments below or join our ongoing conversations on Facebook and Twitter!
Note: Comments are moderated so once you make your comment, allow 24 hrs for your feedback to show up on our website.  If you have any questions email us at info@prairiesnorth.com.